Once upon a time, in a land not so far away, the Woman I Was stumbles in the door after a long day at work. Ignoring the meowing cats, she plops herself down on the couch for a well-deserved nap.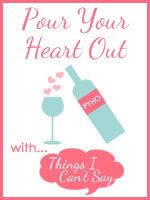 She's been asleep for a half hour when her husband calls, wondering what she wants for dinner. She stretches sleepily and thinks for a few minutes.
"Well, we had Thai last night," she says. "How about sushi?"
He agrees and promises to bring home takeout from their favorite restaurant.
They eat on the couch while watching  home decorating shows on HGTV.
Later, she looks at the small laundry pile that lies in front of the washing machine and sighs. When will she ever have time to get through it all?  There simply aren't enough hours in the day.
But instead of throwing a load in, she decides it's time to go to the gym for a a late night workout. She sweats hard, not allowing herself to leave until she's done 45 minutes on the treadmill, a complete circuit of the weight machines and 250 crunches.
Exhausted, she heads straight for the shower when she arrives home. She lets herself dissolve under the hot spray, not emerging until every drop of warm water has been drained from the water heater.
Then she collapses into bed, already worrying about the next day's To Do list. There are five items on it.
She has no idea how good she has it.
I compare that with my average day now and  can only shake my head in disbelief. There are no naps for me. No blood-zinging workouts or leisurely showers.
My day started shortly before 5 this morning, when the toddler awoke, soaked with pee. By 6, I had already stripped her bed, done an entire load of laundry and made breakfast.
At lunch, I went to Kohls, the bank and the pharmacy—eating only after I arrived back at my desk.
And when I got home? Well, a day's work still awaited me. In between reading books, playing doctor and sending the tickle monster chasing after Tori, I helped my husband make dinner, cleaned up the living room, did two more loads of laundry, cleaned the kitchen and spent an hour putting the kid to bed.
And now? Now it's 10:30 and I'm writing a blog post.
Do you know what the Woman I Was would have done after a day like that? Cried. Loudly and inconsolably.
But the funny thing is, today was a good day. I enjoyed the extra snuggle time I got with Tori this morning. And we had a heck of a lot of fun this evening, right up until she had to go to bed.
Getting the dishes done gives me a feeling of accomplishment. Clean laundry means I can get dressed with a minimum of aggravation in the morning. And the exhaustion I feel right now? Means I might actually get a good night's sleep.
So while the Woman I Was looked way better in clothes and had way more time to read, I wouldn't trade places with her for anything. I love my life right now—leaky diapers, sallow complexion and all.